19 Jun 2023
Africa's green hydrogen opportunity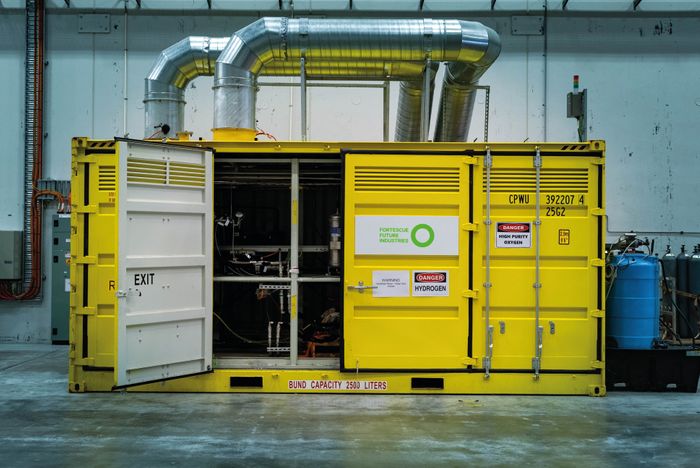 Fortescue Future Industries (FFI), the green energy arm of industrial giant Fortescue Metals Group (FMG), one of the world's largest producers of iron ore, is leading the company's plan to decarbonise by 2030. In this interview, FFI's President Bruh Ayele Terfie discusses how Africa can capitalise on its huge renewable resources to create a green energy industry, including green hydrogen, with benefits for the climate, jobs and the economy

There is a lot of talk about how big the green hydrogen opportunity is for Africa, but what does it actually mean?
The green energy transition is a huge opportunity for the world, not just Africa. It is a chance for countries to take control of their future, create their own energy, and not be beholden to others lucky enough to have fossil fuels readily available.
Africa does have a distinct advantage though. The continent's vast renewable resources – sun, wind, geothermal and hydro – make it an obvious choice to lead the transition to a green energy and green hydrogen future.
Africa has a real chance to be a first-mover in this space. Fortescue can see that potential, that is why it has already built a strong presence in the region, including our African headquarters in Kenya.

What does it take to become a world leader in green hydrogen, and who is currently the biggest first-mover?
Having great natural resources like Africa is a big help, but that's just the start. The Inflation Reduction Act in the United States has opened the world to green energy opportunities.
Europe, Asia, Australia and the rest of the world have now been playing catch-up with the US, because what they have done is game-changing for the green hydrogen market globally and a brilliant outcome for our sector, and others like it.
Other countries must now look very closely at what the US has done to supercharge green energy or they will be left behind.
Green hydrogen is the best option we have for stepping beyond fossil fuels, and as we scale up production, it will only continue to get cheaper.
Why does Africa have to help decarbonise the rest of the world?
We are in a climate emergency. It is a race against time, and this is everyone's problem. Although Africa is not to blame for some of the biggest contributions to global warming, it certainly has felt the effects in some of the worst ways.
Decarbonisation is key to eliminating pollution and removing carbon from industry and supply chains. Green hydrogen and green ammonia are critical to decarbonising hard-to-abate sectors.
Africa should not see this as a problem it has to fix, but an opportunity. It's an opportunity to create a new industry, a green industry for the future that helps replace fossil fuels forever, while creating a stronger, more resilient economy.
Is Africa only seen as an export opportunity for green hydrogen, or is there also a local use?
It can and needs to do both. Africa certainly has the opportunity to create a large export industry for green hydrogen, there is the demand for it globally, and it has the resources, space and incentive to sell that to parts of the world that need it more.
But there is also the opportunity to use what is made locally, in places like the fertiliser industry.
This is a chance for Africa to produce its own fertiliser, made from green ammonia, eliminating the need for fossil fuel-based imported products.
Kenya is looking to do just that, and FFI is working with the government there to develop a 300 MW capacity green ammonia and green fertiliser facility. The aim is to provide affordable green fertiliser to the domestic market and address food security, while also negating the need for importing equivalent amounts of fertiliser and instead localising industry and creating jobs
Switching to renewable energy and green hydrogen gives countries additional energy security that puts them beyond the use of fossil fuels, and more importantly stops a reliance on Russian-imported fossil fuels and fertiliser.
How do you make sure the green energy transition is a just one?
Green hydrogen is not only a smart economic decision, but it will also empower local communities through jobs and sustainable, long-term business, which will see returns go back into the local community.
Fortescue has a history of working with communities by respecting cultural heritage, creating economic opportunities, investing in community development programmes, and fostering a strong residential workforce. For example, its Billion Opportunities programme in Australia has provided over $AUD4.5bn in contracts to First Nations businesses there.
It's important the local community is as involved as we are. Maximising local participation in the form of jobs, training, and business opportunities will drive the acceleration of the global renewables industry.
What needs to happen for the green hydrogen industry to continue to scale up?
We need this industry to scale up and do it quickly. We cannot afford to wait for the climate to get worse, that is why Fortescue is racing to real zero by 2030, and we want others to join us.
Green energy will create jobs, lower power prices, create energy security and lower emissions.
As projects are built at scale, they become more economic, unlike fossil fuels, which will continue to get more expensive. Business is what got us into this climate mess, and it is what will get us out. It is no longer acceptable for heavy industry to say that it can't go green.